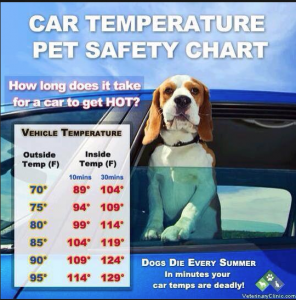 I have officially joined the club "YOU PEOPLE." I went to get in my car in the Michael's parking lot and noticed the car in front of me had a small dog inside. Back window was down about 2″. It is 82° Outside and the inside of a car can heat up to 99° In 10 minutes. I sat there for 5 minutes waiting to make sure the dog was okay. A woman came out of the store and went to get into the car. I proceeded to tell her how hot her car could get and she shouldn't leave the dog in the car.
Well, I could tell by her hostile demeanor and bad language that this wasn't her first rodeo! She told me that "YOU PEOPLE" need to mind your own F#*~#!! business. She tried to convince me that this miniature poodle was a service dog ( yeah right). I told her that if it was a service dog than it should have gone in the store with her. She tells me that she forgot his service dog vest and if I didn't like it then call the "blanking" cops. Told her I wasn't calling the cops but she shouldn't leave her dog in the car in this heat. I drove away as she was screaming profanities at me.
Too many animals (and children) are left in cars and it is NOT safe. I will do the same thing again if I see an animal locked in a HOT car. People just don't think.
Story shared by: Bobbi H.
April 2019
M
T
W
T
F
S
S
« Jul
1
2
3
4
5
6
7
8
9
10
11
12
13
14
15
16
17
18
19
20
21
22
23
24
25
26
27
28
29
30
© 2018 DogsInHotCars.com. All Rights Reserved.